So, as many of you may know, I told myself while in SEPS that, when I got out, I'd go and get the anti-procession tattoo from
Supernatural.
And, after going out, getting my hair cut, buying many clothes (including a jacket that looks remarkably like Dean's from the later seasons that I found on sale and had to get), I went and got myself the tattoo: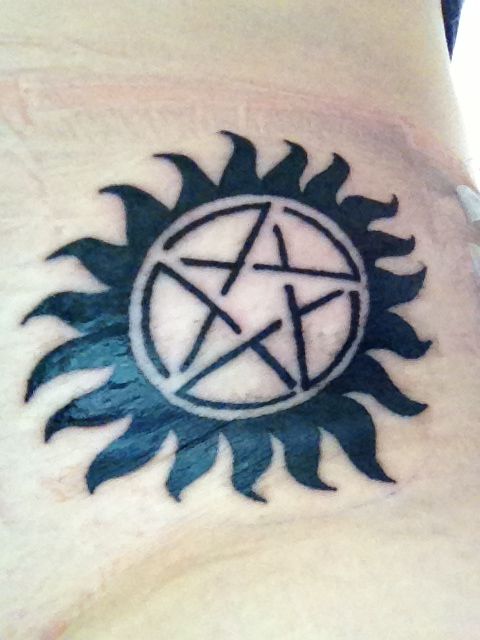 I ended up getting it on my left hip instead of my leg, because I really thought that dad seeing it would be a bad idea. Granted, I'll have to make sure to wear high waisted pants or long shirts for a while, but still. I went out and did it. Because I wanted to.
But when I was driving home, mom started calling me. I had told her I'd be back by 4 and it was only - barely - 3, but she was getting worried and called to check up on me. Like I'm not an adult who'd BE IN THE NAVY if they'd have let me stay. Anyway, I get home and call her to pick me up from the bottom of the hill, where I have to park, to pick me up, as I have too many bags to carry. And on the drive up the driveway she tells me she got worried when I was out so late (again, barely 3 pm) and was worried I was getting another tattoo.
...
So, yeah, I skillfully didn't answer that question. Though she did tell me later that she thought it would be a good idea if I didn't get any more, 'cause Dad hates them. Again, skillfully didn't answer, but still, it makes me wonder if she knows. Granted, I told her I planned to get more in a letter I'd written, and that they'd have to suck it up because I'm an adult and as long as it's not disruptive, they shouldn't control what I do (though she's already sorted through all the boxes I left behind and MOVED stuff and went through all my purchases today because she WANTED TO SEE and couldn't wait and yeah).
So yeah. That happened. IDK how it will turn out. I knew it was probably a bad idea setting out, but I wanted it and had time and opportunity and funds and had promised myself and it's not like anyone but me is ever going to see it (ever, considering my dating history). It's bound to go badly. Dad flipped out when he saw my first and still doesn't know about my third (which I got way back in August of 2010), nor will I tell him about this one. But still. My body. My life. I got it professionally done, and plan to move out as soon as I've secured a job and/or school loan. He should get over it.
Yes, I know I'm probably in the wrong here, but I'm tired of being treated like a child. I'm 25. If he wants me to be an adult he should let me act like one. Make my own choices (and mistakes) and all that.
Le sigh.